A 59-year-old mother and her 40-year old daughter have been stabbed to death at Mapakadawewa in Mahiyanganaya last night (21), Police reported.MORE...


21 Apr 2018 (11:05 AM)



The Director General of Labour said legal action will be taken against Horana rubber factory for failing to take safety precautions.MORE...


21 Apr 2018 (12:35 PM)



North Korean leader Kim Jong-un has said he will suspend all missile tests and shut down a nuclear test site with immediate effect.MORE....


21 Apr 2018 (10:51 AM)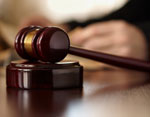 The manager of the rubber factory in Horana, who was arrested over the death of 5 persons in the ammonia tank incident yesterday, has been ordered remanded until April 25 by the Horana Magistrate s Court. MORE..


20 Apr 2018 (3:11 PM)



The Prince of Wales will be the next head of the Commonwealth, the BBC reported. MORE..


20 Apr 2018 (9:05 PM)



The Police Special Task Force (STF) has carried out a special operation in the Western and Southern provinces within the past 2 weeks, resulting in the arrest of several suspects along with a host of weapons and narcotics. MORE..


20 Apr 2018 (3:07 PM)